← Back
Sit down with busy mum and LoveLuvo's team member
Interview conducted by Cormac Sheehan // Purpose Communications.
Cormac: Tell me a little bit about yourself?
Utako: My name's Utako, I'm from Japan but I've been living in Australia since maybe 2000, so almost half my life in Australia. I studied Beauty Therapy, worked in retail and as a beauty therapist, met an Aussie guy and got married, stayed here and bought a house in West Footscray. I always loved LoveLuvo so when my little kids got a bit bigger, I was happy to get a job here two years ago! My kids are 7 and 5 now, both in Primary School. Grew up in Tokyo, Mum from Okinawa, Grandma is still there, she's 98. They're the longest living people in the world! She moved there after my Mum retired.
Cormac: How long have you been working with the LoveLuvo team?
Utako: Since November 2018. There's a very good team here. I used to work at Aesop maybe 10 years ago, as a facialist, and also at another beauty salon in Melbourne. Then I did my own Beauty Therapy Business for a few years, stopped for a little while when it was too much work on top of two kids.
Cormac: How does LoveLuvo compare?
Utako: It feels very chilled, maybe it's the concept that WCIG created, maybe it's the atmosphere that Jess has nurtured, and also the customer base in the local community. Compared to when I was in the city in the Aesop shop, it was more hectic, just too much! Here, people are more understanding, the customers are calmer and more easy-going, it's relaxed. Lots of loyal supporters and customers coming back too.
Cormac: When did you first find out about the shop?
Utako: Just walking past, probably when it opened around 2011, I loved coming to Seddon and Yarraville and kept coming back, but I didn't known about all the social impact concept until I started working here.
Cormac: What was it that attracted you to LoveLuvo before you got a job here?
Utako: All the products are my favourite things! It smells so nice, the body care with a natural base, it's local, not a big corporate mainstream brand.
Cormac: Jess (Store Manager) mentioned that working here has been helping you develop concepts for your own soap business?
Utako: I started it in 2018 after I did an olive oil soap class in the Mornington Peninsula. I've always been into aromatherapy, and being a Beauty Therapist is actually a very demanding job to do, physically and emotionally. I really love making things, so I realised that soap-making connected it all together and was something I could maybe do for the future, since I was so busy with the babies and then the kids growing, which took up most of my time for the past five years, so I found that I needed to find myself. My soap business allowed me to do that, and although it's only been two years, Jess has been very supportive and open to helping.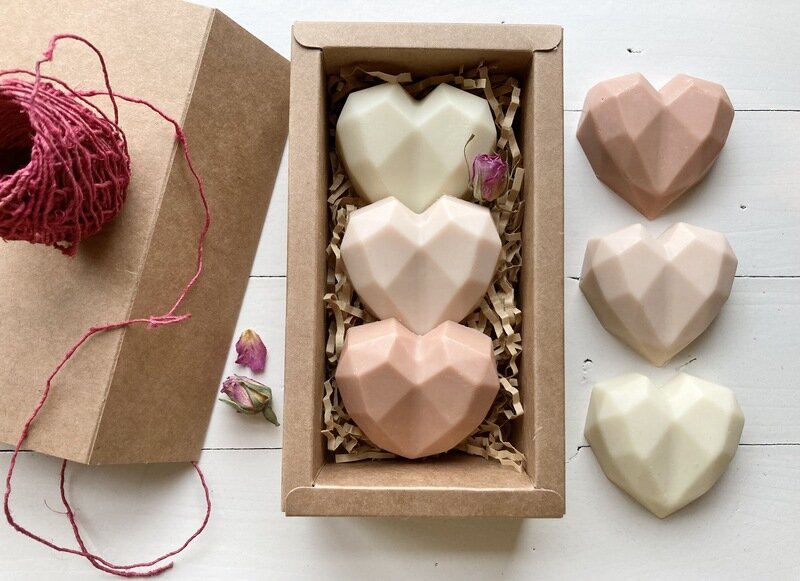 Cormac: Are your products sold at LoveLuvo?
Utako: Yes! Also, I love sewing, so I made maybe 500 facemasks during lockdown, under a different business name. My other business is Uroom Beauty, which is made from Damask Rose water farmed in North-East Victoria at Samaria Farm, and now I've actually become distributor for their products on my online shop! Ushop is my little sewing business for babies and kids clothes, and also the facemasks.
Cormac: What do you like most about the LoveLuvo shop?
Utako: I like the feeling of working here, it's quite hard to find. When you like the product, the everyday work, the people you work with – it's very hard to find. But this place for me is so beautiful and happy, everybody is so nice, I love all the products, the customers are very nice. Our little strip of shops here is so much nicer compared to big shopping centres or malls, it's calming and supportive, not so commercial and pushing handcream all the time or trying to sell them a massage. I can explain what they need, they respond more kindly, they come back regularly. When I come here it makes me feel so happy.
We've created a very welcoming atmosphere and so we get a lot of locals coming back here instead of Highpoint Shopping Centre, and I think ourselves and the local shop community in Seddon Village have created that cute happy welcoming mood to invite people in, spend a little money, and I think they really feel that essence of "the good you do comes back to you" which is our slogan. I feel like I don't know what it is 100%, maybe the feeling of the shop and the products, maybe the people selling. It's something intangible but very special.
Cormac: Do you have favourite colleagues or customers and what is it that's so great about them?
Utako: Kind of! A lot! The ones who often come in, for refills, who are loyal, trying new things. I think Jess is the best manager ever, very loyal. She doesn't put pressure on, she still motivates and sells, it's not just a friend relationship, she gets lots of new things and is very fair to everyone.
Cormac: Do you see yourself working with the LoveLuvo team into the future?
Utako: Yes! My husband wants to go and live in Japan but I don't think that's happening any time soon, so I do want to keep this nice part of my life.
If you'd like to find out more about the work we do and who it can benefit, click here to find out about Westgate Community Initiatives Group or click here to find out about LoveLuvo.