← Back
6 Cruelty Free Gift Sets and Sustainable Gifts for Mother's Day
May is the beautiful month when we celebrate Mother's Day. Whether you're honouring your mum, or the special person in your life who embodies the essence of a parent, you might be finding yourself wondering how to show your true appreciation and love for them. Finding that perfect way of saying 'thank you' on Mother's Day can be difficult. That's why we've taken the stress out of gift giving with a list of easy-to-give cruelty free gift sets and sustainable gifts, including our sustainable skincare brands – perfect for any mum on Mother's Day. And, while you are spoiling her with a sustainable gift choice, you'll be making a positive contribution to our environment.
LoveLuvo Deluxe Pamper Pack
The LoveLuvo Deluxe Pamper Pack is the ultimate way to pamper your mum with some of our favourite LoveLuvo products, along with a couple of other special pampering treats. The deluxe pamper pack is perfect for any special person in your life. The beautiful products within the pamper packs will help anyone relax and enjoy some much-needed time for self-care. What's more, everything in the gift pack is cruelty free, so you can feel good about giving it, and the recipient can feel great about using it!
What's included?
· LoveLuvo Cruelty Free Hand & Body Wash – Lavender, Chamomile & Rosemary 250ml
· LoveLuvo Cruelty Free Body Lotion – Lavender, Chamomile & Rosemary 250ml
· Light & Glo Travel Tin Candle
· Bennetto Natural Foods Co Chocolate 100g
No matter who you're spoiling this Mother's Day, they are sure to love it. The gift set is the perfect reminder to take time for yourself and gift giving doesn't have to harm our environment.
Bopo Women Self Love Body Oil
If your Mum needs some pampering, this Bopo Women body oil could be the perfect gift! This luxurious body oil has been carefully crafted with a blend of nourishing, natural ingredients including geranium, bergamot, mandarin and neroli essential oils. What's even better is that all ingredients in Bopo Women products are vegan, cruelty free and Australian made. What more could you ask for, for the environmentally conscious, local buying advocate?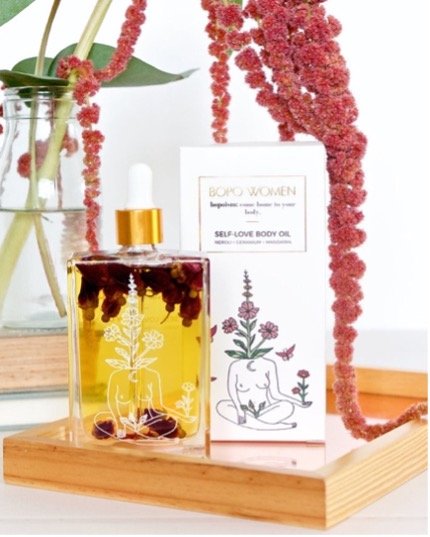 Wild Emery Shower Steamer Collection Box Set
For the person who needs a little reminder to slow down and take some time for themselves, this Wild Emery set might just do the trick! These little shower steamers pack a big punch, making any shower more indulgent. Packed full of essential oils and absolutely no nasty ingredients (no parabens, SLS, SLES, or petrochemicals), the only difficult thing is to choose which beautiful, scented steamer should you use first! All Australian made, they are easy to use in any shower: simply pop your steamer on the floor of your shower and let the hot water do the rest.
What's included?
This box set contains 10 scented shower steamers:
· REFRESH is a cool menthol infused burst of peppermint and tea tree
· SLEEP is a calming lavender and chamomile to promote rest
· BREATHE deep with clearing menthol, rosemary, and eucalyptus
· CHILL with cool and refreshing menthol and spearmint
· ME TIME for a guilt free me time shower with a mojito inspired scent
· FOCUS with zesty sweet lemongrass
· DREAM with floral, sweet, and warm frangipani, ylang ylang and clary sage
· EMBRACE with fruity and earthy mandarin and clove bud
· REST is a grounding warm blend to wind down in a peaceful shower
· RELAX is the ultimate floral shower experience
Brush It On Silicone Teabag – 3 pack
This one is for the tea-lover, or anyone who knows the soothing and relaxing power of a well-steeped cup of tea. If your Mum is one of them, why not gift her a set of these sustainable and eco-friendly silicone tea bags? Thanks to this Brush It On teabag set, you can enjoy a lovely cuppa together, without worrying about the excess and unnecessary waste created by conventional teabags. Made with high-quality and food-grade silicone, they are dishwasher and freezer safe, durable, and best of all, reusable. These little teabags can be filled with any loose-leaf tea, and then it's as simple as brewing the tea as usual!
What's included:
· 3 eco-friendly silicone tea bags (blue, orange, green)
Salus Me-Time Trio
The Salus gift set is perfect for the coming winter months, and for any mum that needs to be reminded to take a little me time. Comprised of a trio of luxury spa products, this set is designed to help bring the experience of the spa into the home. Give the gift of a little luxury with these nourishing and cruelty free hand and body products.
What's included:
· Calendula & Shea Butter Hydrating Body Cream 150ml
· Lavender & Mandarin Hand & Cuticle Cream 100ml
· Chamomile & Rose Geranium Clay Soap 180g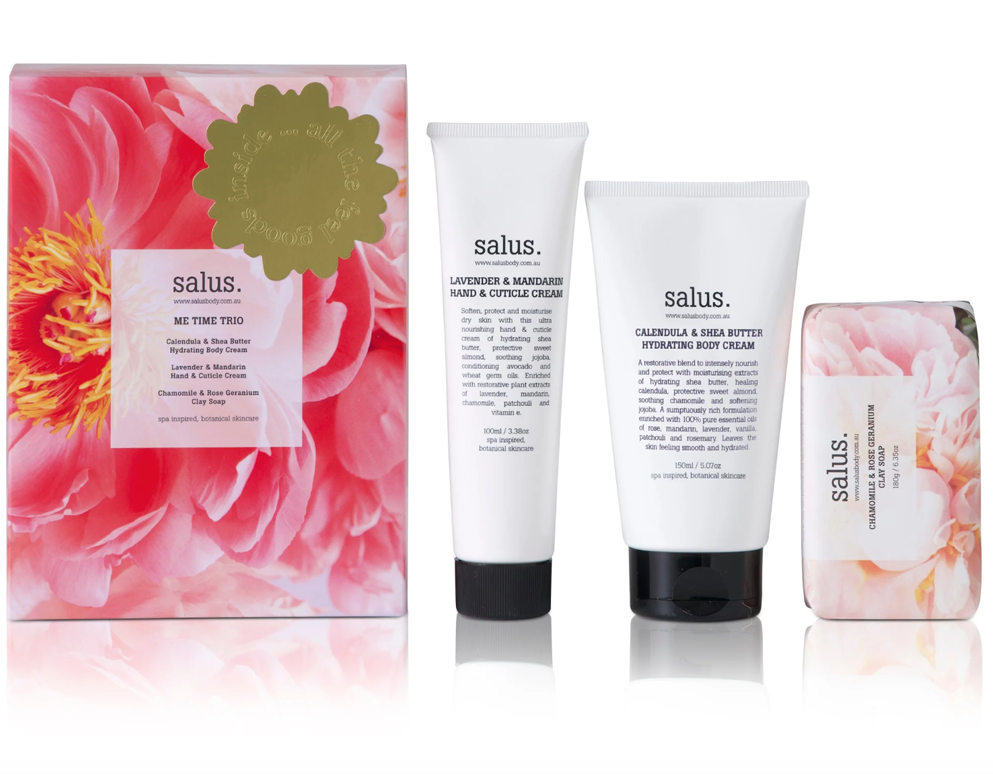 Sapon Soap Gift Box – 2 Soaps & 1 Bath bomb
If your loved one needs some time for themselves, this Sapon bath bomb and soap set will make a great gift. Featuring three beautiful Sapon bath products, this set is gentle on sensitive skin, as well as cruelty free!
What's included?
· Sapon Goat's Milk Bath Bomb
· Sapon Soap Bar x2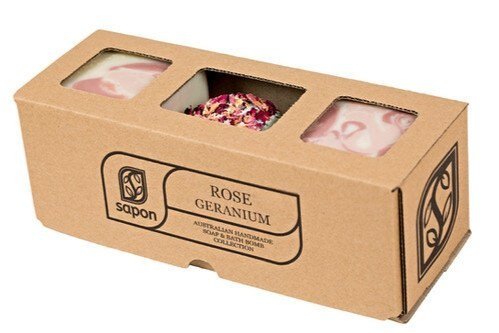 Looking for Cruelty Free Gift Sets this Mother's Day?
Look no further than LoveLuvo for a stunning range of sustainable skincare brands and cruelty free gift sets. Whether you're buying for your mum, your grandmother, or another special person in your life, we are here to help spoil them with our eco-friendly gifts that you will feel good about gifting.
For all your gifting needs on Mother's Day or all year-round, come and see us at our Seddon store, or give us a call on 03 9396 1822. Alternatively, you can fill out our online contact form, or browse our online store any time!