← Back
4 Sustainable and Cruelty Free Gift Sets for this Christmas
It's the Christmas season once again, and that means not only is it an extra busy time of year, but there are parties to attend, decorations to be hung, and of course, gifts to buy for loved ones. So, amidst all the hustle and bustle of Christmas, what do you do if you want to make Christmas more sustainable this year? That's where LoveLuvo steps in, with cruelty free gift sets and sustainable gifts galore! In 2022, we all want to be more conscious of the environment and whether our choices contribute positively or negatively to the world around us. While it can be difficult to know what to do, or how to make sustainable decisions around Christmas time, one easy decision to make is buying sustainable presents. That's why we have put together this list of amazing cruelty free and eco-friendly gift ideas to help you with your environmentally friendly Christmas shopping.
LoveLuvo Favourites Gift Set
This gift set is the ideal round up of our favourite LoveLuvo products, and that means that everything in the set is paraben free, sulphate free and, of course, cruelty free. What's more, is that by supporting LoveLuvo with your gift giving, you are also supporting our sustainable and eco-friendly mission, thereby giving back to the community. A gift that the recipient will be sure to love, and that you can feel good about gifting – what could be more perfect?
What's included?
o LoveLuvo Bath Salts 500g
o LoveLuvo Hand & Body Wash 250ml in Lavender, Chamomile, and Rosemary
o LoveLuvo Body Lotion 250ml in Lavender, Chamomile, and Rosemary
Whether you're looking for a relaxing and pampering gift to give the busy and stressed-out person in your life, or for the loved one that needs a reminder to slow down, this cruelty free gift set will be sure to save the day.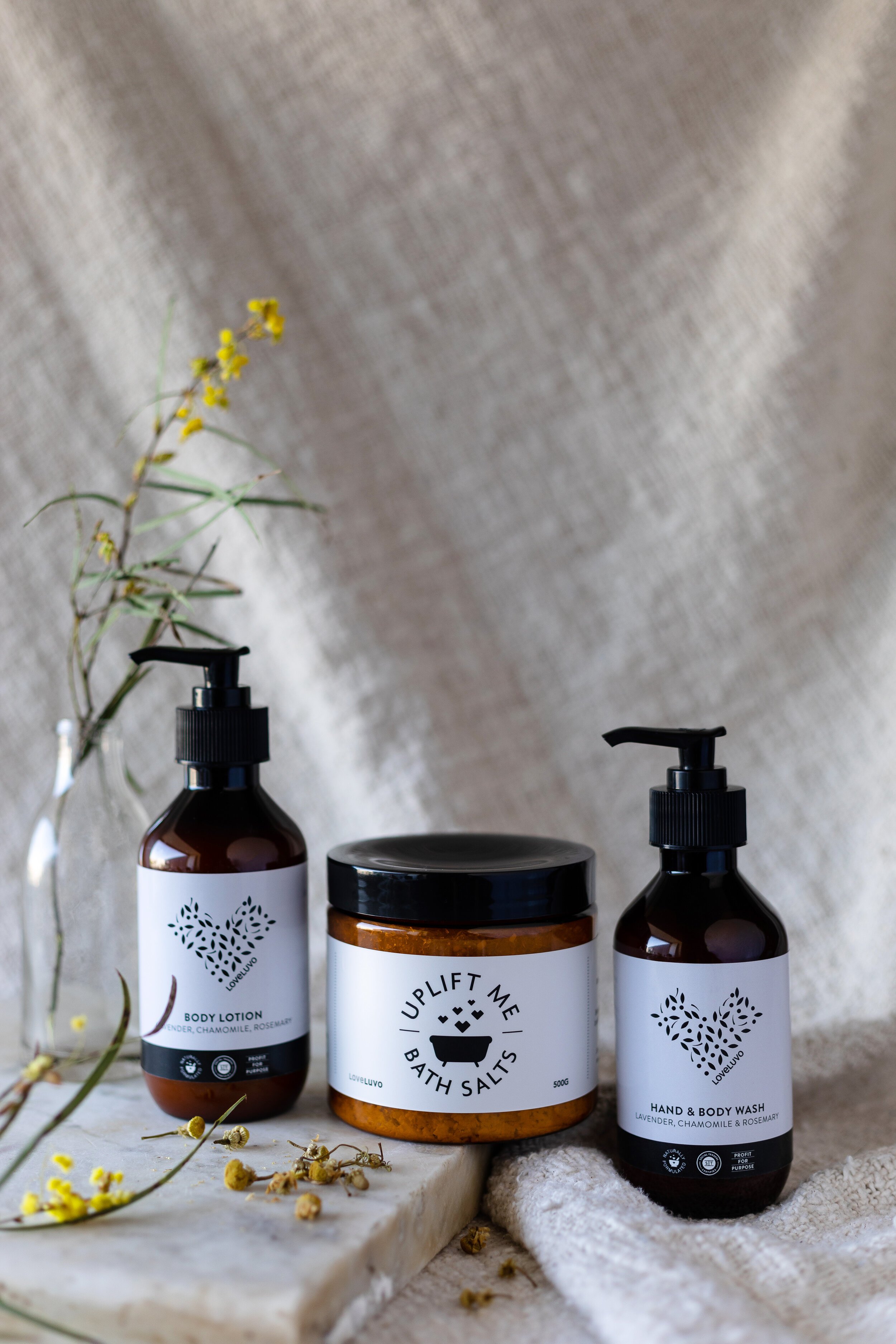 Salus Body Rescue Duo
This stunning skincare gift pack from Salus contains two lovely products for purifying and hydrating the skin. The entire range of beautiful Salus products is proudly 100% Australian made, featuring botanicals, natural plant extracts, and essential oils.
Aiming to bring the luxury of the spa into the home, Salus products contain no synthetic fragrances or colours, no sodium laurel sulphates, glycols, parabens, or mineral oils. Plus, as an added bonus, all Salus products come in recyclable or reusable packaging, making them a fantastic pure and natural gift and one that's friendly to the environment.
What's included?
o Calendula and Shea Butter Hydrating Body Cream 250ml
o Eucalyptus and Rosemary Purifying Body Scrub 250ml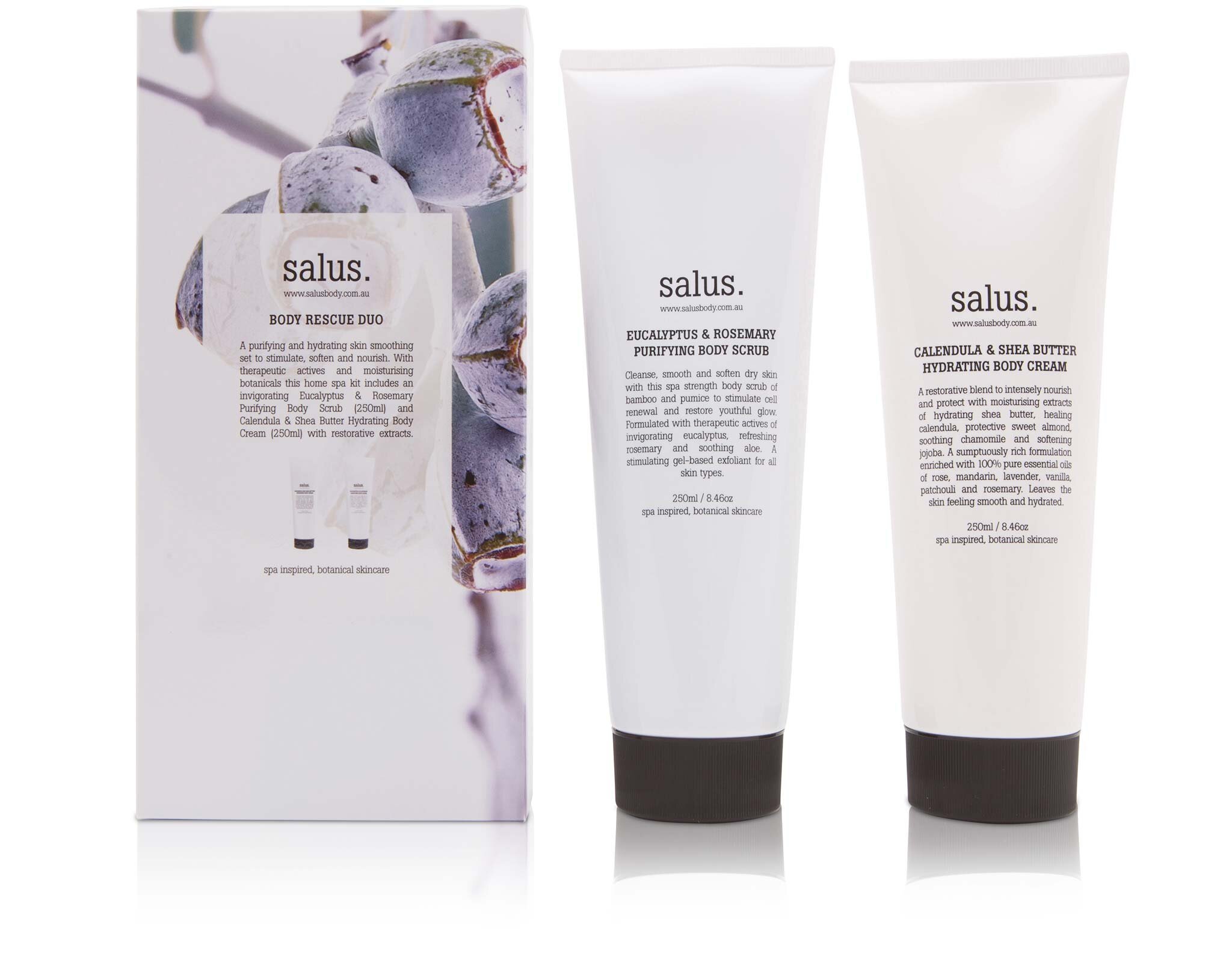 Christmas Pamper Hamper
This Christmas-themed gift set is a collection of gorgeous products that will delight and pamper anyone you gift it to – so much so that you may even be tempted to pick one up for yourself too! Whoever you give this hamper to will no doubt be thrilled with the selection of cruelty free and eco-friendly products, including a LoveLuvo body lotion, a beautiful goat milk soap, and more.
Christmas dessert is also taken care of thanks to this hamper, with the inclusion of a gorgeous Christmas pudding by STREAT – another amazing local social enterprise that supports disadvantaged young people who need a helping hand. That's right, your purchase of this hamper provides support for STREAT to provide programs that facilitate a healthy self, healthy work, and a healthy home for young people who really need it. You can read all about STREAT's social enterprise aims, and don't forget to check out LoveLuvo's social mission while you're at it.
What's included?
o LoveLuvo Lavender, Chamomile, and Rosemary Body Lotion 250ml
o Light and Glo Christmas Bauble Candle
o STREAT Christmas Pudding Small
o Sapon Gat Milk Soap
o Soap Rack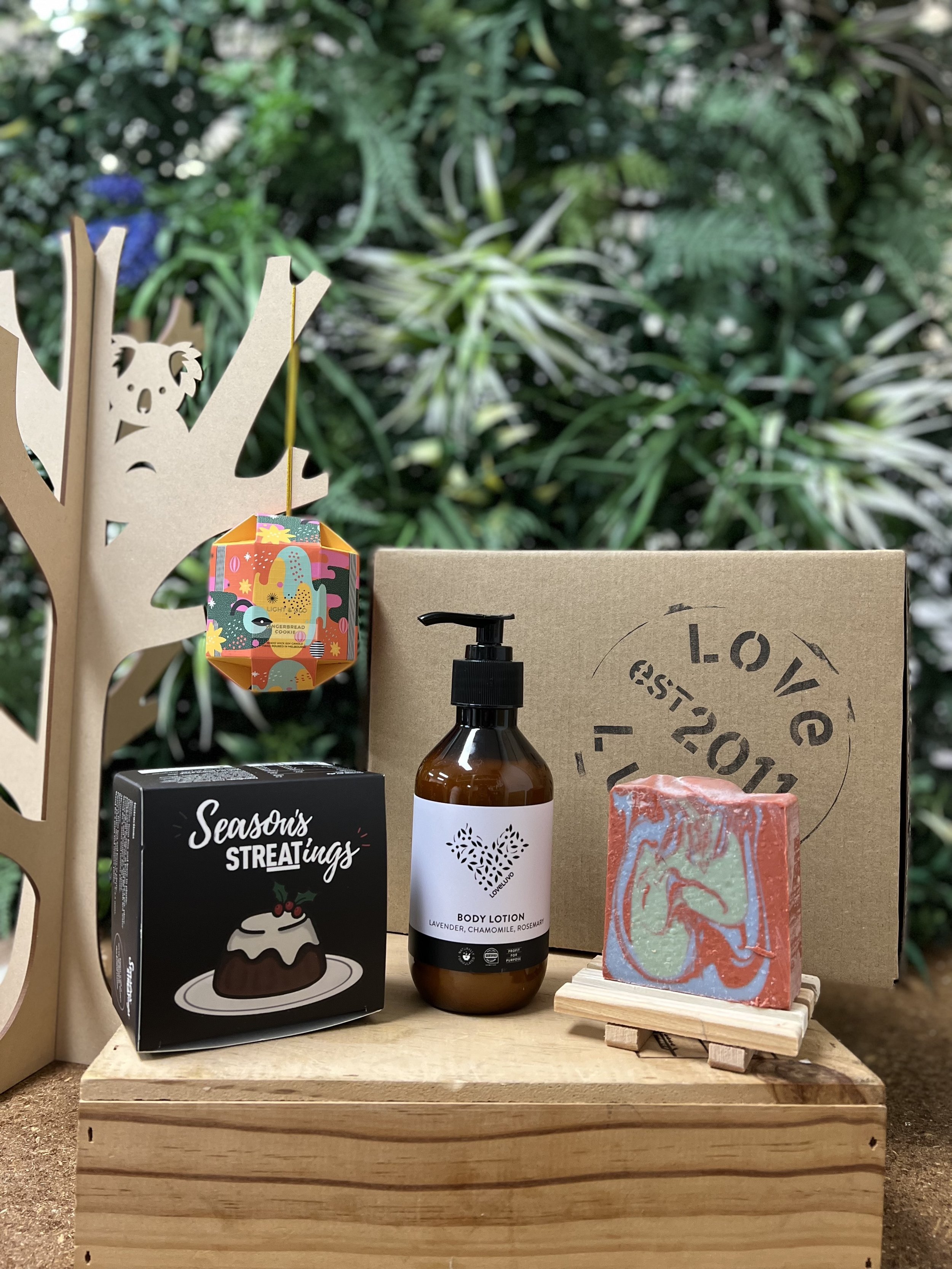 Damask Rose Soap Set
This handmade gift set of heart shaped soaps from Samaria Rose Farm make a great eco-friendly and sustainable gift for anybody on your Christmas list. The pack of three beautiful damask rose soaps are made from olive oil and natural ingredients, making them intensely nourishing and moisturising for the skin. This gift pack would make the perfect stocking stuffer, Kris Kringle gift, or little treat for yourself this Christmas season!
What's included?
3 heart Shaped Damask Rose Soaps by Samaria Rose Farm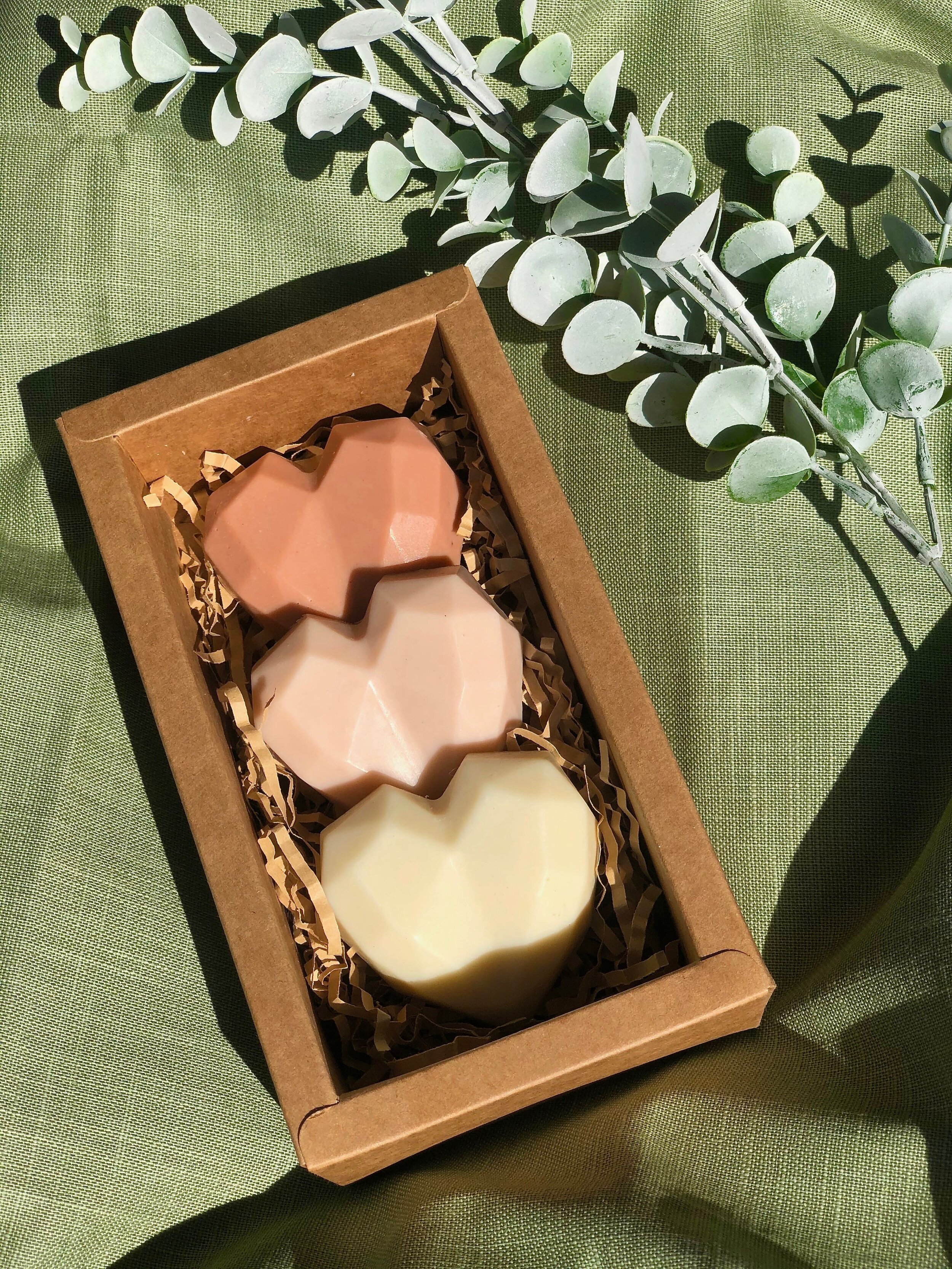 Looking for Cruelty Free Gift Sets?
Look no further than LoveLuvo for a beautiful range of gifts this Christmas season. Whether you are looking for cruelty free gift sets, eco-friendly body care products, or natural and sustainable presents to gift your loved ones, we are here to help.
For all your gifting needs, come and see us at our Seddon store, or give us a call at 03 9396 1822. Alternatively, you can fill out our online contact form, or visit our online store anytime!