← Back
3 Sustainable Swaps to Make in 2023
As 2023 begins, it's now a great time to reflect, reassess, and make some resolutions for the new year ahead. During the year, it's easy to get bogged down in our day-to-day lives and to run on autopilot, which is why this time of year is such a great opportunity to pause and reflect on what is really important. The start of a new year is also the perfect time to reflect on and reassess the impact that we have on the environment and the world around us. In a time when we all want to continually be more sustainable and more conscious of the decisions we make, it's important to ask the question, what else can I do? That's why we've put together this list of easy swaps you can make in your everyday life to be more sustainable. Have a skincare routine? Swap it out for cruelty free skincare. It's as easy as that. Keep reading to find out more, and our bonus tip on where to go for all your sustainable product needs!
Hand Wash
We use our hands for so much, and we all know the importance of keeping them clean and healthy. That's why our first easy swap is hand wash. Swap out the hand soap that you get from the supermarket for a cruelty-free hand wash, and you're doing good in more than one way.
Our LoveLuvo hand wash is cruelty free, which means that animals have not been used, or harmed at any stage of the development, testing, or manufacturing process. Unlike some products you can find on the supermarket shelf, LoveLuvo products does not test on animals, which means that you can feel better about your consumption. Check out this Wikipedia page if you would like to find out more about the origins and meaning of cruelty free.
Besides being cruelty free, LoveLuvo hand wash is also great for your skin as it is paraben free, sulphate free, and naturally formulated with premium Australian plant extracts and essential oils. Other options include the Salus Hydrating Hand Wash, and the range of Sapon bar soaps, both of which are cruelty free too!
Skincare
That's right, you can swap out your skincare routine for an entirely sustainable one with the help of the right products. Skincare is a huge part of looking and feeling good for many people, however, using certain products can actually contribute negatively to the environment, in more ways than one.
An easy swap for your typical face scrub is the STUFF Exfoliating Facial Scrub, which is perfect for exfoliating and is both vegan and cruelty free! Follow that up with the STUFF facial moisturiser, which contains no parabens and no sulphates, and – you guessed it – is vegan and cruelty free, and suddenly your skincare routine is transformed into something you can feel good about.
Why not make the swap to cruelty free and vegan skincare this new year, and transform your skin routine into something you can really feel good about?
Refillable Products
When it comes to many of the products we use, one of the biggest negative impacts on the environment is the plastic that they come packaged in. These bottles and packages often end up in landfill, which is terrible for the environment, while consumers buy more and more plastic that is destined for the same fate.
However, there is a better way. At LoveLuvo, we offer a refill service, where you can bring in a clean, empty bottle and we will refill it with the eco-friendly, cruelty free, or vegan product of your choice. We currently provide refillable products like hand wash, body wash, shampoo, and conditioner, but make sure to check out the full range of products and discover how the refilling process works if you're interested!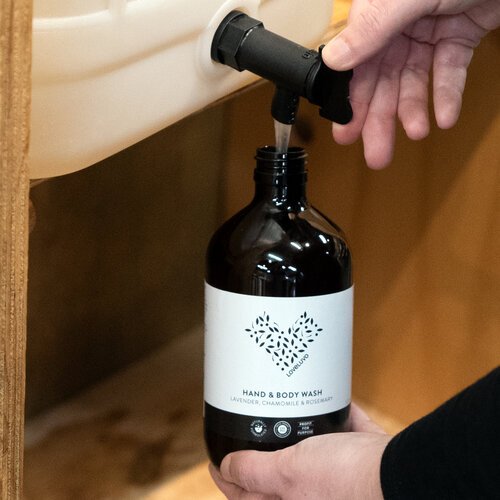 By committing to swapping disposable plastic packaging for using our refill service, you are choosing to reduce your own plastic usage and wastage, which is a huge help to our environment. So far, LoveLuvo has saved 2,345 bottles from ending up in landfill – this is calculated based on 500ml bottles – so that's a significant impact! Why not be part of that impact and make the swap?
Looking for Cruelty Free Skincare and More?
Look no further than LoveLuvo for all the sustainable skincare brands and cruelty free products you could need. We make it simple to implement these easy swaps in your life, which will ensure you are helping the environment while going about your day-to-day life. Whether you decide to swap out the skincare you use, your usual handwash, or choose to make the switch to our refillable products, your sustainable swap will help to make the new year an eco-friendlier one.
When it's time to make the swap, come and visit us at our Seddon store, or give us a call at 03 9396 1822. Alternatively, you can fill out our online contact form, or visit our online store any time!